PRESS RELEASE NO. 21-2023
COMELEC COMMISSIONER PITCHES OVERSEAS VOTING REGISTRATION DURING CONSULATE GENERAL'S OUTREACH IN MICHIGAN

CHICAGO 23 May 2023 – Commissioner Socorro B. Inting of the Commission on Elections (COMELEC) encouraged Filipinos in Michigan to register as overseas voters. This happened during the Philippine Consulate General in Chicago's one-day consular outreach mission and Overseas Voting (OV) field registration on 20 May 2023 held at the Philippine American Community Center of Michigan (PACCM), 17356 Northland Park Ct, Southfield, MI 48075.

Commissioner Inting, who was in Michigan to observe the conduct of the Consulate General's OV field registration, spoke with dual citizenship applicants before their oath-taking to stress the importance of participating in the electoral processes in the Philippines. She strongly urged the applicants to register as overseas voters after their oath so that they may vote in the coming election cycle. She added that the Philippines will continue to fund OV activities to reach out to as many eligible voters overseas to enable them to cast their votes during the 2025 National Elections.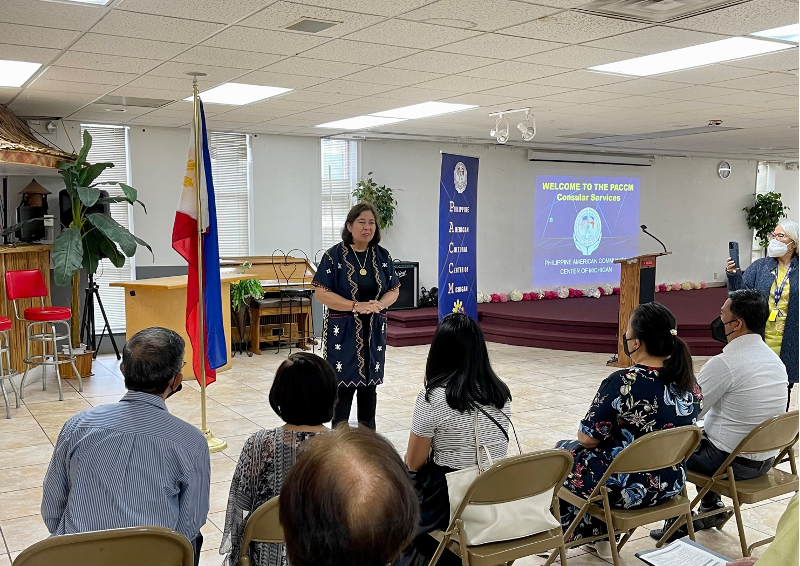 COMELEC Commissioner Socorro B. Inting encouraging dual citizenship applicants to register as overseas voters (photo by Chicago PCG)
During the activity, the Consulate General's team, led by Consul Melvin C. Almonguera, processed 71 Overseas Voting (OV) Registration applications. In addition, the team also provided a total of 156 passport, dual-citizenship and other services to consular clients residing in Michigan and other nearby states. Those who availed of the consular and OV services during the event expressed their appreciation, since this meant that they no longer have to drive for six (06) hours to the Consulate General in Chicago. The opportunity to register as overseas voters was also a welcome bonus.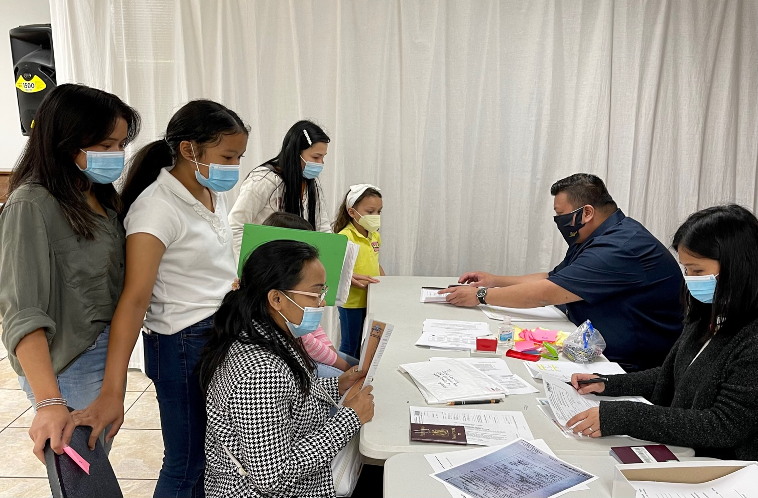 Atty. Eunika Leyva-Tiongco and Mr. Jerwin Mamalateo processing passport applications (photo by Chicago PCG)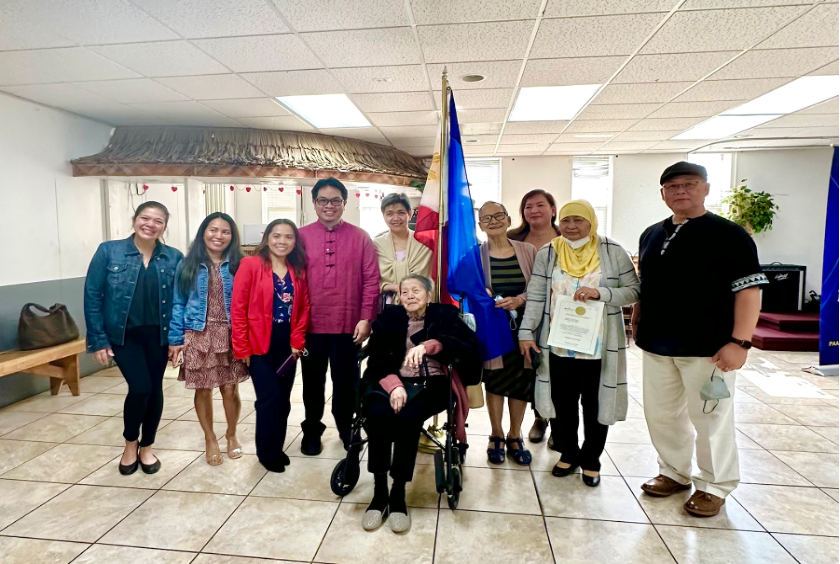 Consul Melvin Almonguera with a group of dual citizenship applicants, including centenarian Mrs. Felicidad Santos (seated) (photo by PACCM)
A highlight of the outreach was the attendance of Mrs. Felicidad Santos who is 100 years old. The centenarian took the opportunity of the Consulate General's presence in Michigan to take her oath for dual citizenship. Mrs. Santos gamely agreed to pose for a picture with Consul Almonguera along with other brand new dual citizens.

The Consulate General conducted the event in partnership with the officers and members of the PACCM. Headed by its president, Ms. Rebecca Tungol, the organization assisted the team by providing promotional and logistical support. Outreach missions are regularly held to bring the Consulate's consular services closer to Filipino and Filipino-American communities in US Midwestern states, outside of Illinois, under the Consulate's jurisdiction.

For updates on consular outreach activities, Filipino and Filipino-American communities in the Midwest may visit the Consulate's official website to (www.chicagopcg.com) and its Facebook page to (@PHinCHICAGO). OV Registration at the Consulate is ongoing and will run until 30 September 2024. END
Chicago PCG's Michigan Outreach team, led by Consul Melvin Almonguera (standing, center), posing with the officers and volunteers of the Philippine American Community Center of Michigan, headed by Ms. Rebecca Tungol (seated, 3rd from the left), before the start of the event (photo by Chicago PCG)