PRESS RELEASE NO. 16-2022
TELECOMS FIRM SEES BRIGHT FUTURE
FOR PHILIPPINE DATA CENTERS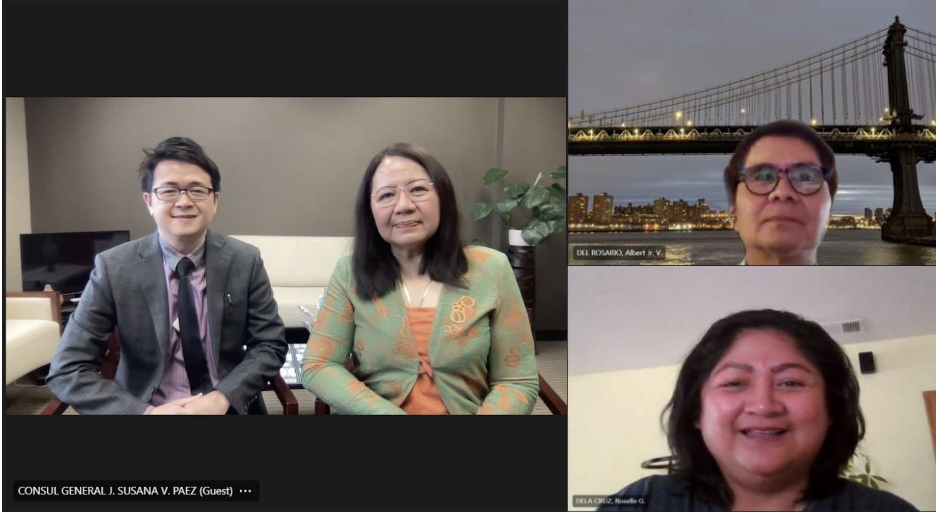 Consul General J. Susana V. Paez (second from left) poses with Consul Ryan Gener (left), PLDT USA Product and
Marketing Head Buddy del Rosario, and PLDT VP for Americas and EMEA Roselle Geronga-dela Cruz (bottom right).
28 April 2022 – Philippine Consul General J. Susana V. Paez virtually met Ms. Roselle Geronga-dela Cruz, PLDT Vice President for Americas and Europe, Middle East and Africa (EMEA), and Mr. Albert del Rosario, Jr. PLDT USA Product and Marketing Head, on 26 April 2022 to discuss prospects for the Philippines' data center sector.

PLDT sought to collaborate with the Consulate in exploring opportunities for US companies to consider the Philippines as an investment hub, and work with Philippine companies such as PLDT that have ICT capabilities, particularly in the emerging sector of data centers.

PLDT currently has 10 data centers, and is now investing in "hyperscalers", which are massive business-critical data facilities designed to efficiently support robust, scalable applications and are often associated with big data-producing companies such as Google, Amazon, Facebook, IBM, and Microsoft. The first hyperscaler in the Philippines is currently being constructed in Sta. Rosa, Laguna. PLDT sought to connect with American firms that are interested in being a locator in its hyperscaler and localize their content and store them in data centers in the Philippines.

The meeting was timely as the Consulate has started reaching out to Fortune 500 companies in the Midwest to invest or expand their operations in the Philippines, sharing the good news about the Philippine economy and the improving investment climate.