PRESS RELEASE NO. 27-2022
PHILIPPINE CONSULATE GENERAL IN CHICAGO COMMEMORATES THE 161st BIRTH ANNIVERSARY OF DR. JOSE RIZAL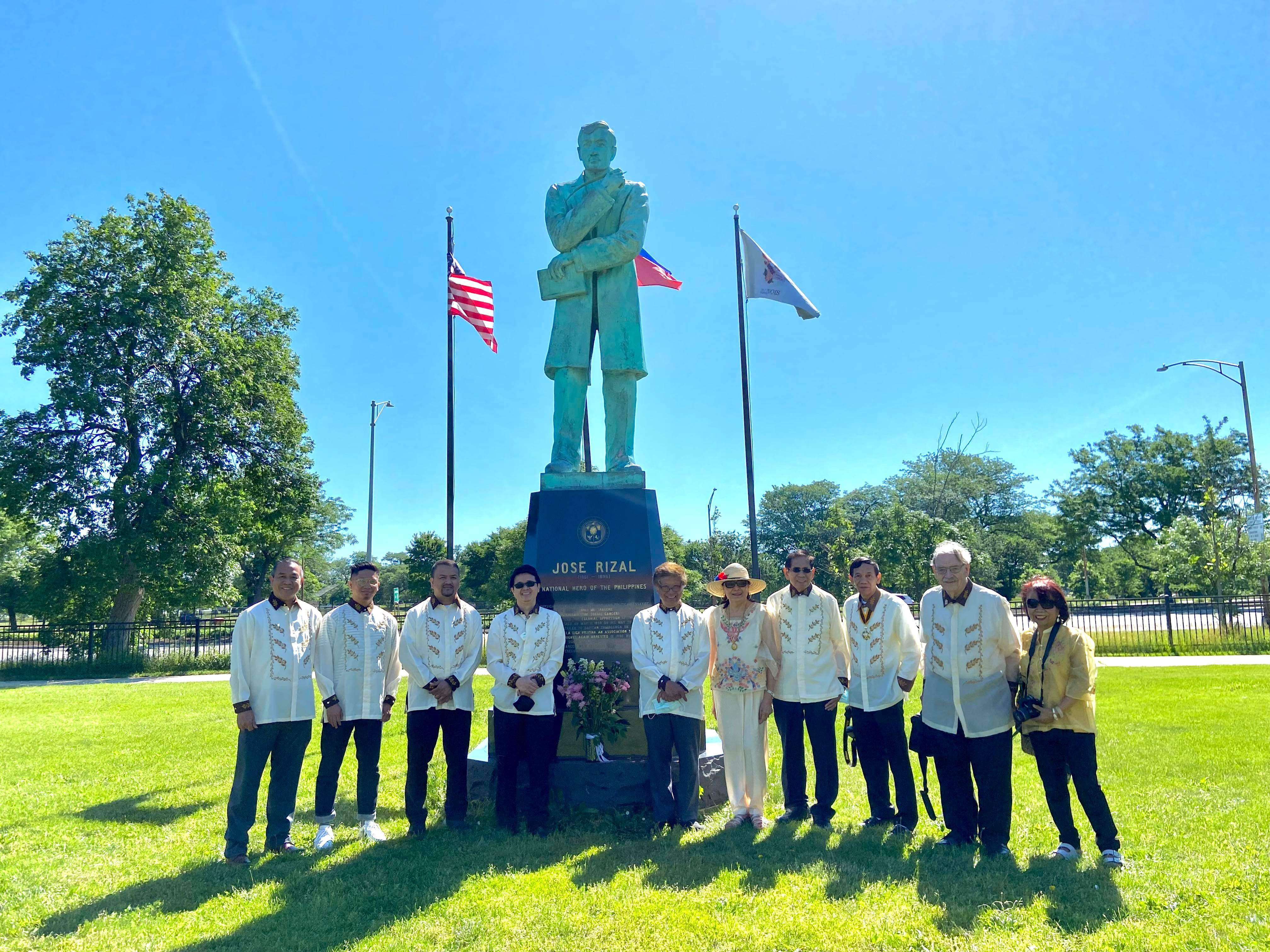 From left to right: Mr. Noly Dulay, Mr. Don Santarinala, Mr. Fritz John De Jesus, Consul Ryan Francis Gener, Mr. Mariano Santos,
Ms. Ella Basilio, Mr. Francisco Alvarez, Mr. Manny Sembrano, Mr. Joseph Pavel and Ms. Edna Pavel.
Chicago, 18 June 2022 – The Philippine Consulate General in Chicago, together with the Knights of Rizal (KOR) and Ladies of Rizal Central USA, held a flag-raising and flower offering ceremony at the Rizal Monument in Margate Park, Chicago to commemorate the 161st birth anniversary of Dr. Jose Rizal and the 135th year of the publication of his first novel, "Noli Me Tángere."

After the ceremony, KOR Central USA and the Filipino American Historical Society of Chicago (FAHSC) organized the concert of saxophonist and composer Matthew Muñeses and his band at the Newberry Library in Chicago. Mr. Muñeses, a Filipino-American who earned his Master of Music in Jazz Performance from the University of Illinois at Urbana-Champaign, interpreted the novel and subsequent Philippine revolution inspired by Rizal through an impassioned and vigorous set of original compositions. Also entitled "Noli Me Tángere," the performance paid tribute to Dr. Rizal through two movements - "A Son Returns" and "Cruelty and Injustice".

In his welcome remarks on behalf of Consul General J. Susana V. Paez, Consul Ryan Gener (who also serves as KOR Maynilad Chapter Commander) shared that the Newberry Library housed the most substantial collection of Rizal manuscripts in America, including the hero's clinical notebook, diary and correspondences, as well as first editions of Noli Me Tángere and El Filibusterismo and a broadside copy of Mi Ultimo Pensamiento (better known as Mi Ultimo Adios). He also recalled Rizal's love of music and enumerated some of his compositions, and noted that Mr. Muñeses helped keep the fire and spirit of Dr. Rizal and Noli Me Tangere alive through his music. He also thanked Newberry Library President Daniel Greene for hosting the concert and delivering the introductory remarks.

After the concert, guests were given the privilege of viewing the Rizaliana collection in the library.

Also present during the event were KOR Central USA Commander Mariano Santos and FAHSC lead organizer Ruben Salazar. END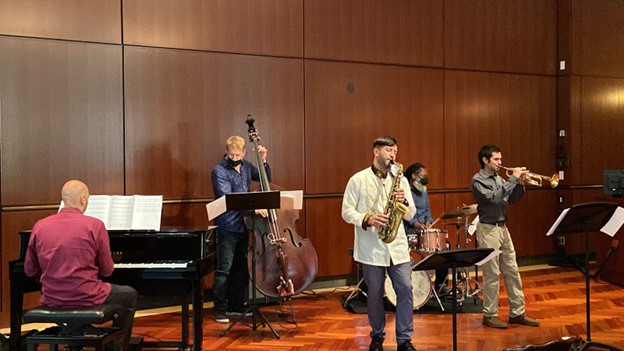 Saxonphonist Matthew Muñeses (middle) and his band performing "Noli Me Tángere".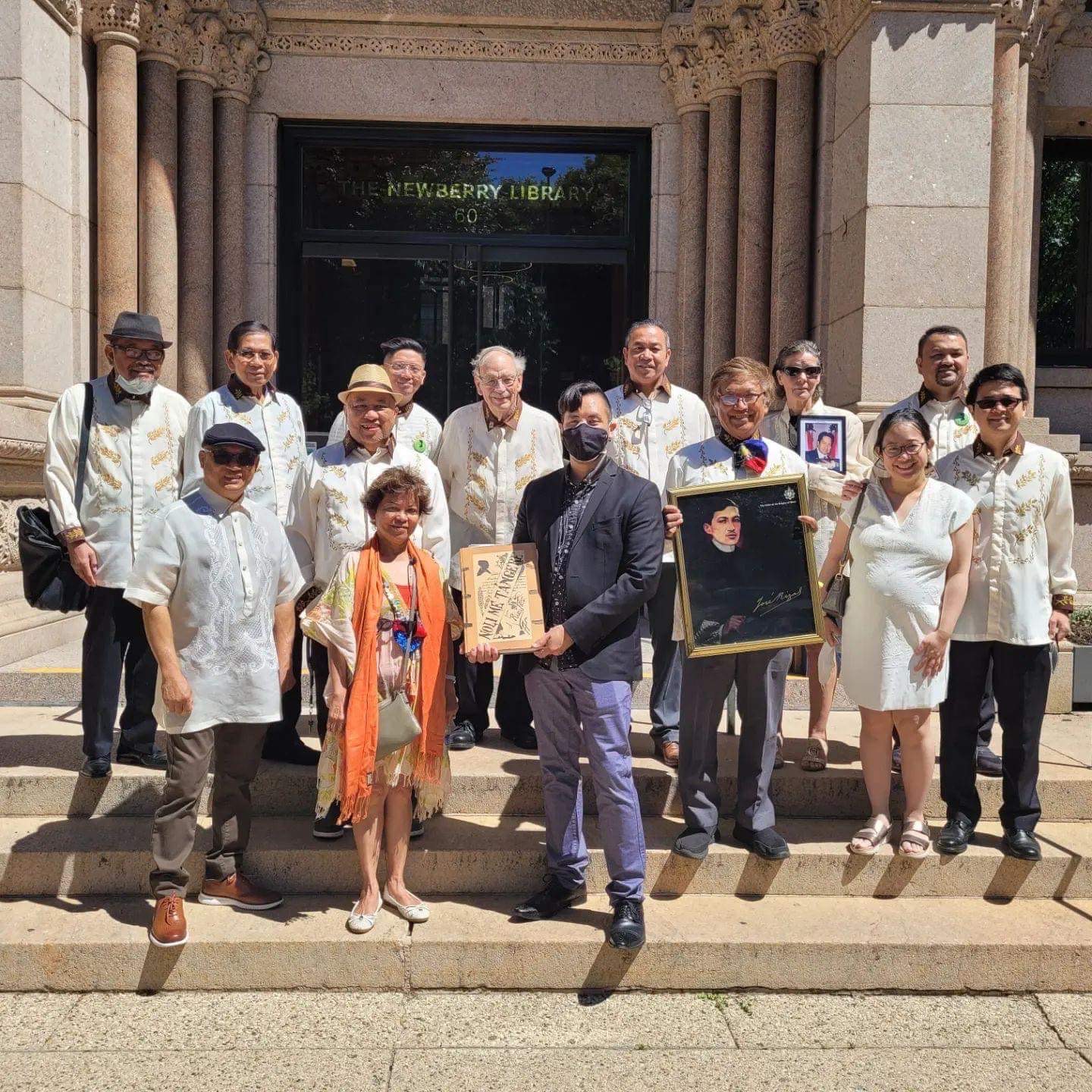 Philippine Consulate personnel and members of the Knights of Rizal and Ladies of Rizal pose with Mr. Matthew Muneses
(holding a copy of Noli Me Tángere) in front of the Newberry Library.