PRESS RELEASE NO. 38-2023
PHILIPPINE CONSULATE GENERAL CONDUCTS SYMPOSIUM ON THE PHILIPPINE ARCHIPELAGO IN CHICAGO

CHICAGO 15 November 2023 - The Philippine Consulate General in Chicago organized a Symposium on the Philippine Archipelago in Chicago at the Robert R. McCormick Foundation Atrium, National Louis University on 09 November 2023.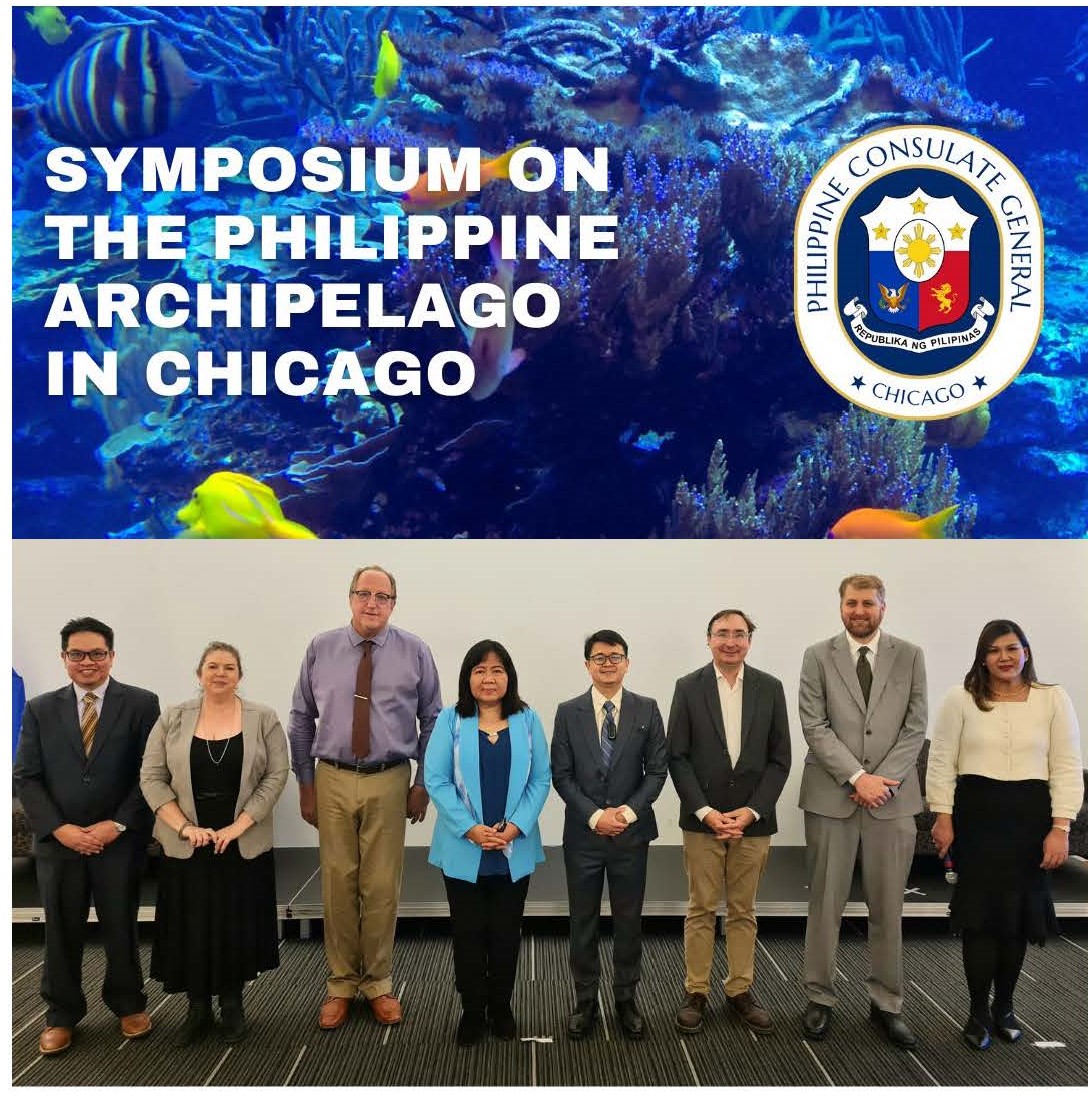 Consulate General officials pose with the guest speakers. (From L to R: Consul Melvin Almonguera; Kendall College Dean Leigh Uhlir; Mr. George Parsons of Shedd Aquarium; Consul General J. Susana Paez; Consul Ryan Gener; Mr. Jamie Kelly of Field Museum; Mr. Will Hansen of Newberry Library; and Consul Ella Katrina Mitra. (Photo by Ms. Cheryl Navarro)
As the concluding activity for the 2023 Maritime and Archipelagic Awareness Month (MANAMo), the symposium sought to raise awareness on the Philippine archipelagic attributes, the complex maritime challenges that it faced, and its many contributions to the rich heritage and cultural vibrancy of the City of Chicago.

Faculty members, administrators and students from the University of Chicago, Northern Illinois University, National Louis University, Harry S. Truman College, and Columbia College Chicago joined speakers and volunteers from the Shedd Aquarium, Newberry Library, Field Museum, and Kendall College of Culinary Arts in a two-hour session providing insightful talks and audio visual presentations on the Philippine archipelago and its substantial presence in Chicago.

In her welcome remarks, Consul General J. Susana V. Paez conveyed that the Philippines, which is one of the most biologically rich countries in the world featuring diverse marine ecosystems, has been facing decades-long challenges that include global issues such as climate change, food security concerns and rival claims. Consul General Paez emphasized that rival claims can only be resolved by adhering to peaceful and rules-based approaches. Thus, the Philippines has anchored its positions and activities in the West Philippine Sea, the broader South China Sea, on the United Nations Convention on the Law of the Sea (UNCLOS) and the 2016 Arbitral Award on the South China Sea.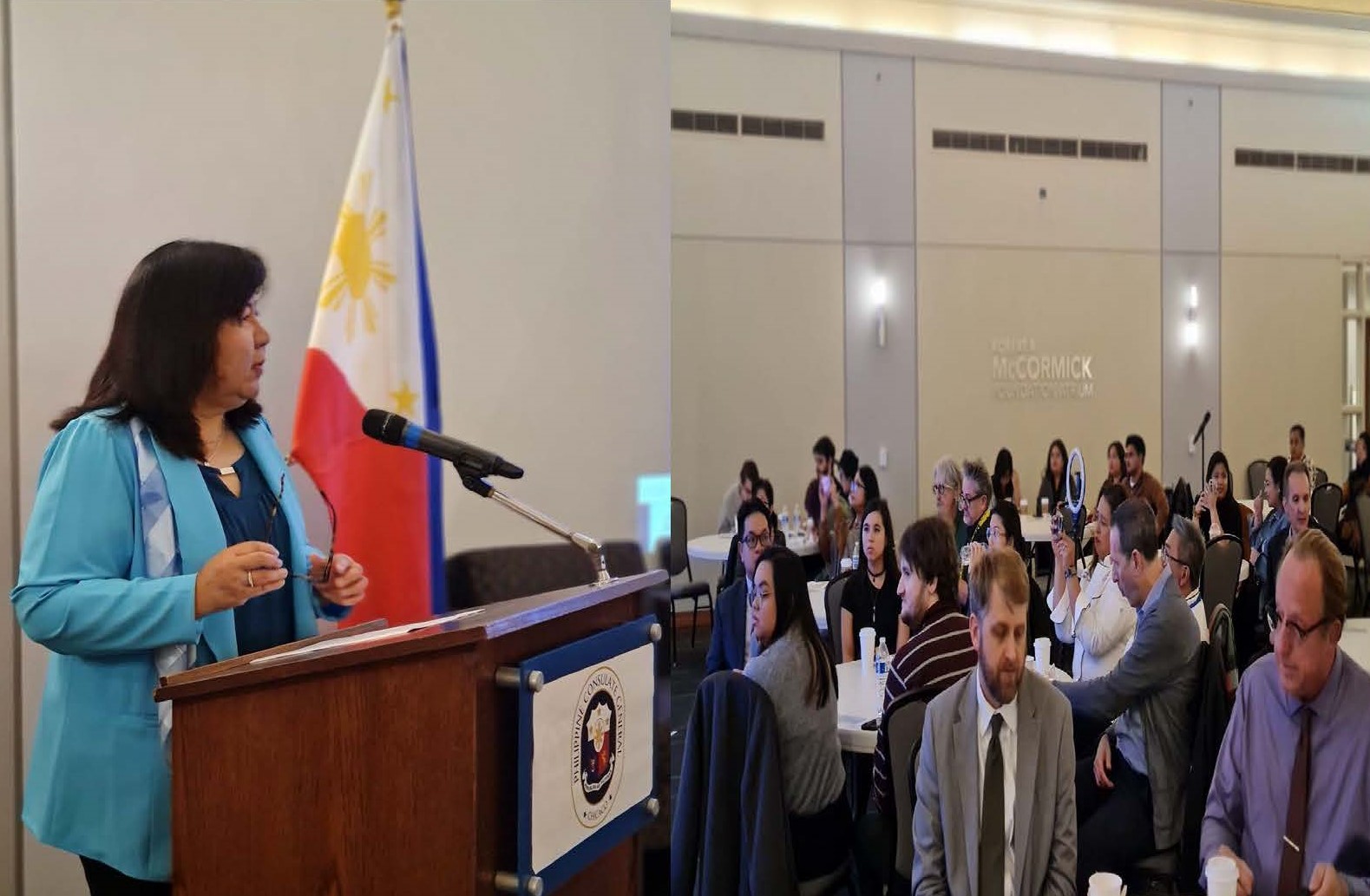 Consul General Paez (left photo) delivering her welcome remarks as symposium attendees at the National Louis University Atrium (right photo) listen. (Photo by Ms. Cheryl Navarro)
Guest speakers led by Mr. George Parsons from the Shedd Aquarium, Mr. Will Hansen from the Newberry Library, Mr. Jamie Kelly from the Field Museum, and Dean Leigh Uhlir from Kendall College at National Louis University articulated the maritime connection as well as cultural linkages that exist between the Philippines and the City of Chicago.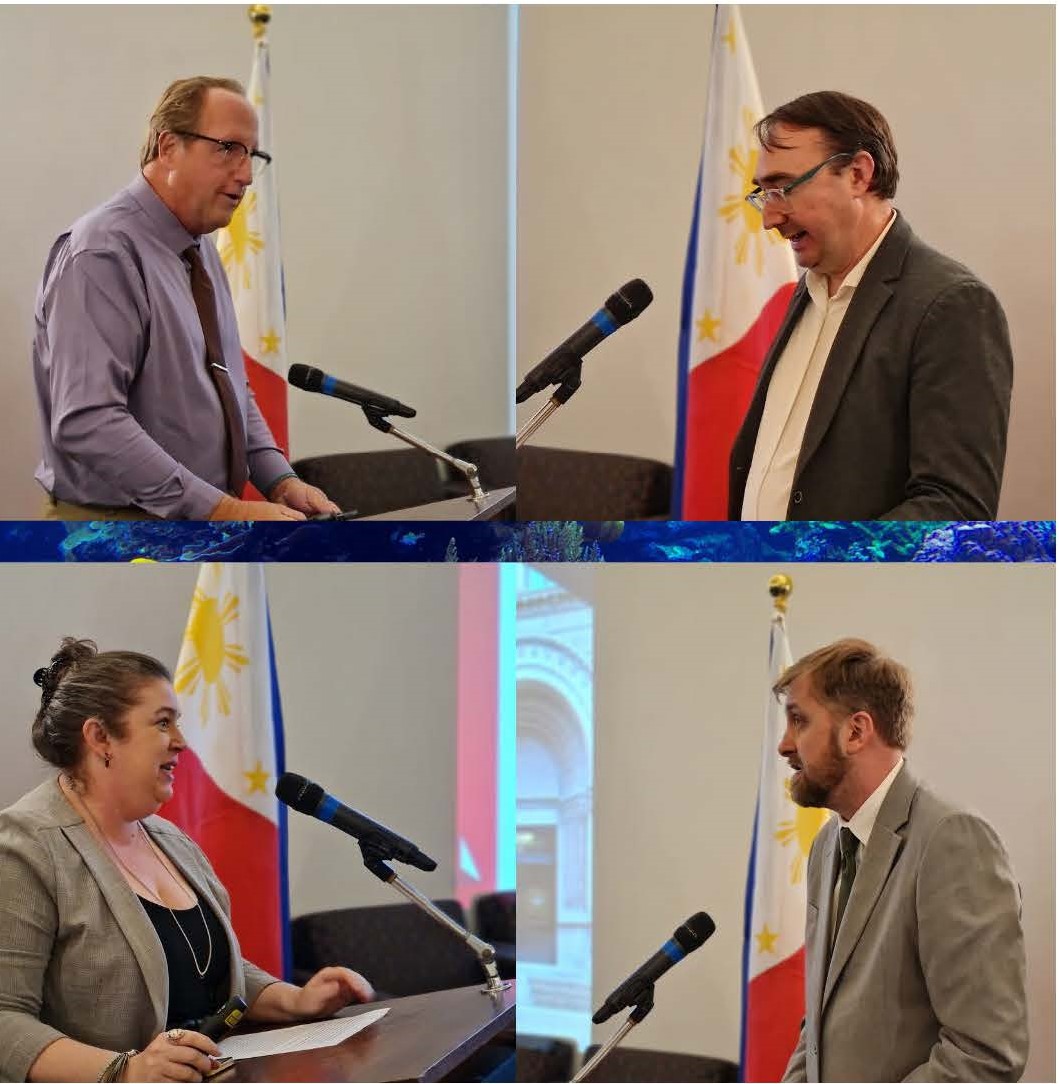 Guest speakers (clockwise from top left): George Parsons (Shedd Aquarium), Jamie Kelly (Field Museum), Will Hansen (Newberry Library), and Dean Leigh Uhlir (Kendall College). (Photo by Ms. Cheryl Navarro)
Mr. George Parsons, who stated that "his heart belongs to the Philippines," shared the backstory of how Apo Island in Negros Oriental served as the source and inspiration for the Wild Reef Exhibit, one of the top-rated and most visited attractions at the Shedd Aquarium, and discussed Shedd's conservation efforts to reintroduce endangered species and make corals more climate-resilient. Mr. Will Hansen discussed the collection of Philippine manuscripts at the Newberry Library, including a rare copy of the 1734 map designed by Fr. Pedro Murillo Velarde, which shows historic maritime routes and figured prominently in the 2016 Arbitral Ruling. Mr. Jamie Kelly presented the more than 13,000 Philippine objects at the Field Museum, including shell items from coasts and ceramic items shipped through maritime trade. Lastly, Dean Leigh Uhlir, with the assistance of Filipino-American faculty members Marianne Albovias and Jing Palasigue along with two Filipino students, discussed the emergence of Filipino cuisine - which is as diverse as the Philippine archipelago's region and islands - in the city of Chicago.

At the end of presentations, symposium attendees participated in an open forum. The speakers answered questions ranging from the importance of preserving historic Philippine contributions to the city of Chicago, to collective efforts that must be done to promote and raise awareness about the significance of its maritime features and environmental concerns, as well as the cultural heritage of the Philippines and its impact on those living in the Midwest and nearby states. END