PRESS RELEASE NO. 38-2022
PHILIPPINE CONSULATE GENERAL IN CHICAGO VISITS THE NEWBERRY LIBRARY TO VIEW THE 1734 MURILLO VELARDE MAP

14 September 2022 (Chicago) - In commemoration of the Maritime and Archipelagic Nation Awareness Month ( MANA Mo) with the sub-theme: "Philippines as an Archipelagic State: UNCLOS@40", the Philippine Consulate General in Chicago visited the Newberry Library to view the Carta Hydrographica y Chorographica de las Islas Filipinas ( Hydrographical and Chorographical Chart of the Philippine Islands), more commonly known as the Murillo Velarde map. Designed by Spanish Jesuit cartographer Pedro Murillo Velarde with the help of Nicolas de la Cruz Bagay, engraver and artist Francisco Suarez, the map shows maritime routes from Manila to Spain and New Spain and is one of the twelve prints known to be in existence.
Led by Consul Melvin C. Almonguera, the team was welcomed and shown around the Newberry library by Mr. Will Hansen, Director of Reader Services.
The Newberry library is an independent institution that focuses on humanities and is home to millions of books, manuscripts, historic maps, music and other printed materials on Western Europe and the Americas. Also included in its core collections are more than 500 Philippine manuscripts and publications from the Spanish period. The library also houses over 8,000 early 20th century ethnographic photographs, Philippine linguistics and travel literature, maps of the islands and even clinical notebooks and correspondence of Dr. Jose P. Rizal.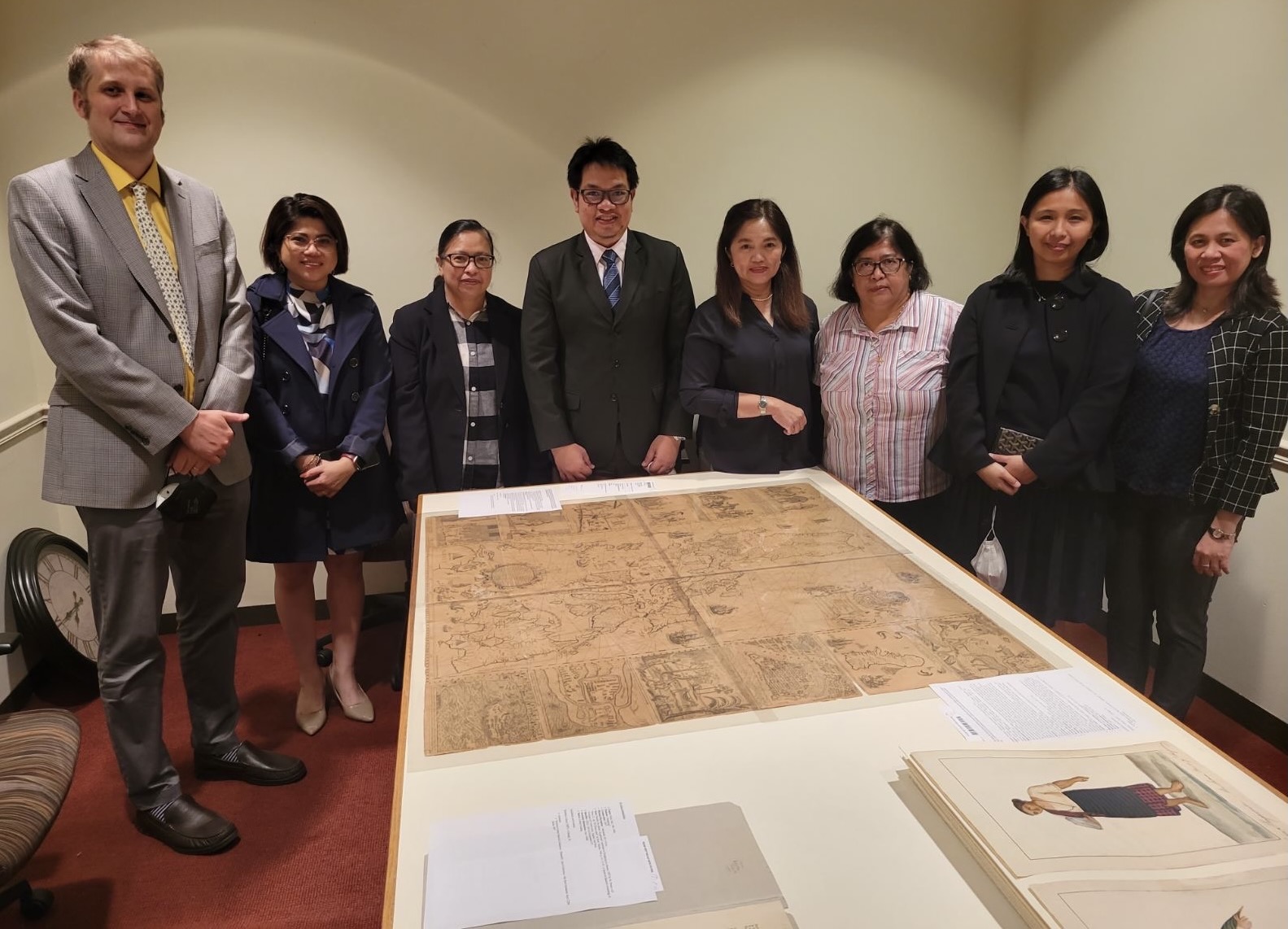 Consulate team led by Consul Melvin C. Almonguera (4th from left) with Mr. Will Hansen (1st from left)
viewing the Murillo Velarde map.
At present, the Newberry library continues to digitize its evolving collections to enable free online access for the public and to inspire research and other academic endeavors.